The Peak x Braze partnership
Learn how Peak and Braze can help customers…
The Braze x Peak partnership infuses intelligence into every action; increasing users and improving customer engagement across the Braze community. By adding proprietary AI-driven personalization and recommendation capabilities to Braze, Peak unlocks truly tailored communication at scale.
Supercharge your customer interactions with the power of AI
The Peak and Braze partnership helps marketers and customer teams create personalized communications at scale that decrease churn, increase customer lifetime value and reduce cost per acquisition.
Peak x Braze
See how we work together to make fast, consistent, and accurate decisions; execute these through an omnichannel approach; and ultimately drive customer loyalty.
Customers can execute better segmentation automatically via AI and better personalize product recommendations; in order to increase customer lifetime value and optimize the customer experience at every digital touchpoint.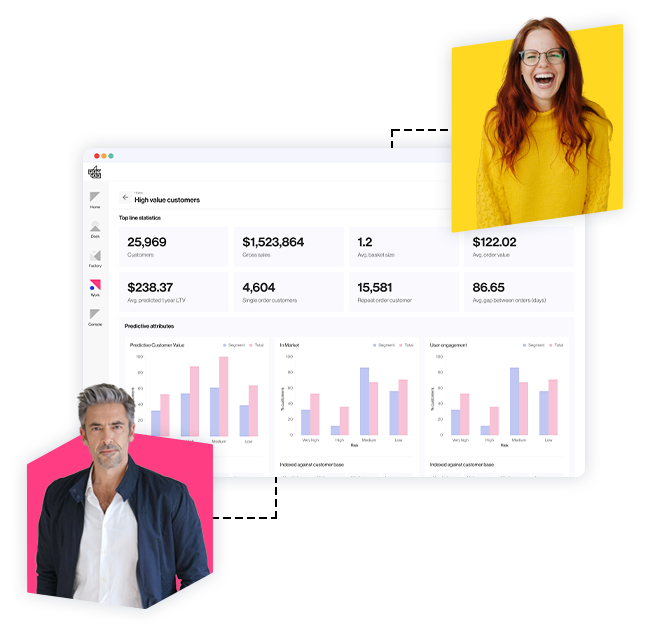 Audiences
A detailed customer view at your fingertips.
Audiences helps you unleash the power of AI on every customer touchpoint. It gives you the insights you need to get deeply acquainted with your customers. Use these insights to build segments, based on attributes, preferences and behaviors.
Recommender
Personalizing every touchpoint in the customer journey. Recommender helps you make it as easy as possible for customers to find the products they want to buy. Don't believe us? Check out how recommender is helping our customers today…
See how The Modern Milkman use both Peak and Braze
The Modern Milkman has selected Peak, the leaders in AI, to streamline its digital delivery platform to meet the needs of customers, alongside optimizing operational efficiency and preventing food waste.
Real results for our customers…
Trusted by some of the world's leading brands
Check out some other resources you might find useful…
Any Questions?
If you have any questions about the content on this page, please contact me, the Global Director of Partnerships, using the details below:
Email: charlotte.crowley@peak.ai