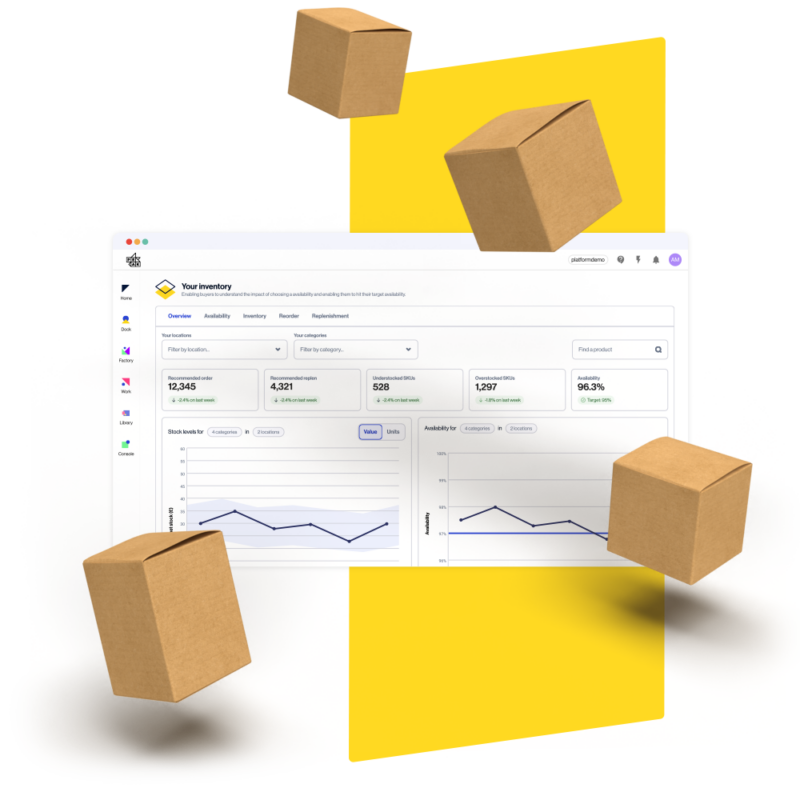 Inventory Intelligence
AI for inventory management
Understand demand and embrace volatility with AI inventory management. Minimize excess inventory, optimize safety stock, reduce shipping costs and maintain a healthy working capital.
Right stock, right place, right time with Inventory Intelligence
The holistic inventory view you need to forecast, order and balance optimal stock levels across your network.
What's unique about Peak?
01
Your own AI, built for your business
Your business is unique — so your AI should be unique, too. Our off-the-shelf applications are configured to incorporate your processes to deliver commercial outcomes that are finely tuned to your business.
02
Rapid to deploy, easy to integrate
Peak gives you the speed of an out-of-the-box application with the power of your own AI. Seamlessly integrating with your existing systems, Peak was built to provide value from AI in weeks, not years.
03
Delivering real-world results
Our applications deliver proven value, and are trusted by some of the world's leading companies who are using Peak's technology to drive game-changing results and efficiencies across their entire value chain.
Gartner recommended
Peak named in Gartner's Market Guide for Analytics and Decision Intelligence Platforms in Supply Chain
Want to learn more about Inventory Intelligence?
Book a demo with our team to learn more about our AI for inventory management software.