The State of AI Report 2022
Artificial intelligence is already becoming a powerhouse, and changing the way we work.
Peak's State of AI 2022 report surveyed 775 decision makers from the UK, US and India, all from businesses with over 100 staff.
Accelerate your AI adoption
Peak gives you the technology, accelerators and support you need to rapidly adopt and realize value from AI and Decision Intelligence.
Platform
Peak is a modern cloud AI platform that builds more than just models; it builds and runs commercially focussed Decision Intelligence applications that deliver business value, fast.
Applications
Our pre-built applications deliver outcomes across a range of use cases, giving you both the speed of adoption of an out-of-the-box solution and the power of a self-built one.
Support
We understand that successful adoption of AI takes more than just technology. Our world-class team have supported companies across a range of sectors and for dozens of use cases.
Decision Intelligence is here. It's the commercial application of AI to the decision making process. It empowers you to make great commercial decisions, all the time. It will change the way the world works.
Decision Intelligence: the next frontier for commercial decision making
Decision Intelligence is a new and rapidly growing category of technology that enables great commercial decision making through the application of AI. Decision Intelligence will change the way people make commercial decisions, no matter their team or role, and has been named a key strategic trend for 2022 by Gartner.
At Peak, we believe Decision Intelligence is the biggest technology movement for a generation.
With

Peak, we believe we're one step closer to creating a game-changing proposition for all of our

customers.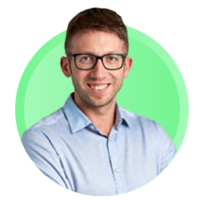 Peak

gives our team the ability to access real-time, highly accurate predictions to help us prioritize those leads who are likely to become Bruntwood

customers.
Peak

yields results while supporting Speedy's near and long-term strategies. Peak understood our goals and ways of working very

quickly.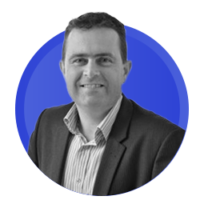 Peak

ensures we offer the right product to the right person at the right time – keeping customers at the heart of our business and using AI to deliver real benefits to

them.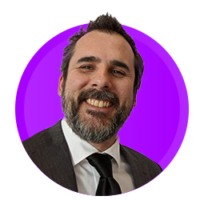 By

harnessing Peak's segmentation power, it's enabling us to add new levels of efficiency into our digital marketing, with impressive

outputs.
Powerful. Flexible. Connected.
Peak is an AI platform for building Decision Intelligence applications, enabling businesses to apply AI to the commercial decision making process.
With features to support both technical and commercial users, Peak makes apps widely accessible to everyone within a business, simplifying and accelerating AI adoption.
Applications that deliver value, fast.
Drive meaningful outcomes across profitability, efficiency and sustainability with our customisable suite of pre-built Decision Intelligence applications.
Use AI-powered views of customer behavior to improve recommendations and increase transactions.
Gain AI-powered forecasts that consider product popularity, region, stock levels, seasonality, and more.
Optimize the flow of goods through your warehouse, driving increased pick efficiency with AI-powered wave planning.
Optimize stock levels and movements between distribution centers, minimizing environmental impact.
Explore an AI-powered markdown engine, providing rebuying recommendations to maximize margin.
Deliver hyper-personalized experiences and acquire new high value customers with AI-powered advertising.
Game-changing AI is here.
Peak has the technology, strategy, services, and support to help you succeed with AI.
There's more to us than tech
Peak's team can accelerate your AI efforts, no matter where you are on the journey.
We take a flexible approach to you and your needs. Whether you're validating the power of AI for the first time, adopting it more widely, or transforming your business to be AI-centric, we're here to help.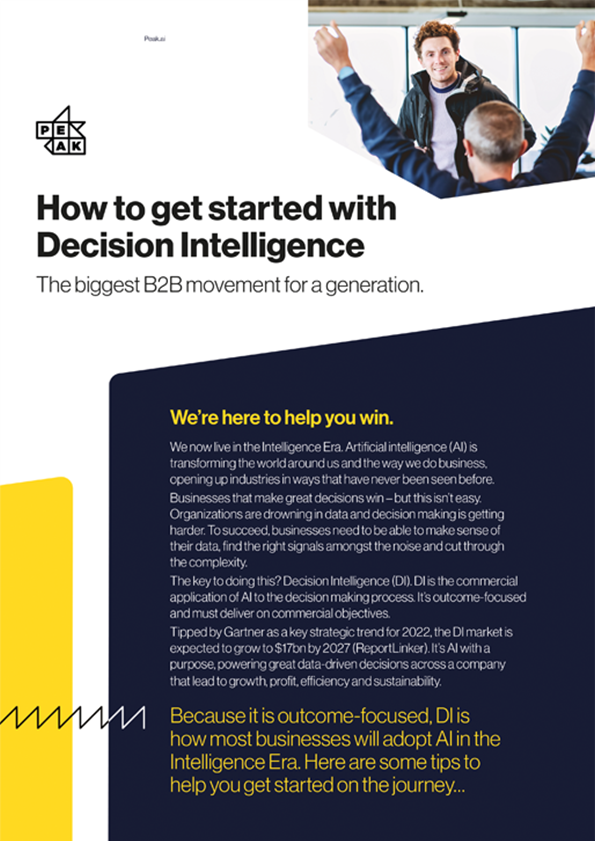 Think big, start small, move fast
Not sure where to start?
Our guide will help you take the first steps on your Decision Intelligence journey and put you on the path to success.
Download our 'How to get started with Decision Intelligence' whitepaper today!