Great awaits you at Peak
People are at the heart of everything that Peak does. Join us and help us reach new heights.
Our vision is to put AI in the hands of every business.
We're at the forefront of the rapidly-growing artificial intelligence (AI) market, with ambitions to become the world's leading AI platform.
As part of our vision we are seeking to create an amazing company and culture.
One of innovation and entrepreneurial spirit, where our team drives the business to succeed and feel empowered to make a direct and meaningful contribution to our success on a daily basis. One where, most importantly, we enjoy the work we do.
We're passionate about what we do and provide meaningful careers, not just jobs. You'll work with cutting-edge technology, deliver amazing results for some of the world's most recognisable brands, and support Peak's global growth and expansion.
Jaipur is home to our co-founder and CTO, Atul, and we have more Clubhouses in India than any other country in the world.
India Careers
This is a great time to join Peak and the US team, as we start the next stage of our global growth.
US Careers
Welcome to the world of Peak
Build an amazing company
Experience life at Peak and help us change the way the world works.
Reach new heights
Empowering people to grow their personal and career opportunities.
We win when we all win
Teamwork and collaboration across our global teams enables us to do great.
Don't just take our word for it
We're looking for brilliant people across a range of roles and departments, including:
Life at Peak
At Peak, we believe in shared achievement, equality and shared ownership – we only win when we all win. So we're committed to more than our work. We strive to build a company everyone loves being part of, and we're committed to making decisions that have a positive impact, not just on Peak but for the wider world, too.
A diverse culture of innovation
Changing the way the world works is a big and challenging mission for Peak. Problem solving is at the heart of what we do at Peak. To do that well we need a diverse team from a range of backgrounds, people who view the world differently and tackle problems from different perspectives.
Hey,

I'm Cat! I'm a Talent Manager at Peak and I partner with our Sales teams across the UK and US to hire best in class sales talent. I'm based out of our Manchester Clubhouse (usually with a brew in hand) but when I'm not in the Clubhouse, you'll likely find me up a mountain somewhere in the Peak

District!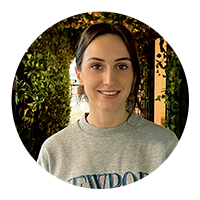 Hi

my name is Nancy, I recently joined Peak as a Talent Manager to help support our growing UK Product Team hire the very best Product experts! On weekends you can usually find me cheering on Liverpool FC (don't hold it against me, United and City

fans!)
Hey,

I'm Lorenzo and I'm the Head of Talent here at Peak! I look after our amazing global talent team and I'm passionate about attracting, recruiting and developing the best talent into Peak. When I'm not busy recruiting, drinking coffee or pulling reports you can normally find me dining out or balancing this with the gym (the weight seems to pile on easier in your 30s). Please get in touch if you are interested in joining a hyper-growth scale-up that has an amazing

culture!
Hi,

I'm Alistair! I'm a Talent Manager at Peak and I partner with our Customer Organization and Operations teams to hire best in class talent. I'm based in the Manchester Clubhouse/local pizza shops and try to spend as much time as I can in the great outdoors (weather

permitting.)
Hey

I'm Priyavrat, I'm a Talent Manager at Peak. I partner with our teams (Sales, Data Science, Customer Success, Product and a bit of Engineering) in India to hire Peak Superhumans. I'm based out of our Jaipur Clubhouse, but when I'm not working, you'll not able to find me anywhere out – because I'll be chilling at my home spending time with my family and watching movies/shows (maybe occasionally you'll be able to find me on a cricket

field!)
Peak

and I share the same agenda to hire the best out of the champions of the domain. Top quality analyst engineers, senior engineers and Tech Leads are the once you would find me keep pooling for PEAK. As the name suggest, we are on a mission to be at the PEAK of the domain. Apart from it, I love to feed anyone who is in my company if at my place (Terms & Conditions

applied).
Hey

I'm Abhilesh Mangal based at Jaipur clubhouse working as Talent Manager Lead – India at Peak. My agenda in alignment to organizational goals is to design recruitment strategies and enable people team for hiring the champions for various departments to join our Superhuman army. For enablement i derive various campaigns for talent branding, relevant talent pool recognition, head hunting and close collaboration with inhouse as well as sourcing outhouse partners. In my leisure time I seek pleasure in learning and keeping my self updated about world economy and geopolitics. I am also a cricket and stock trading

enthusiast.