Data Science at Peak
Develop practical and innovative solutions to help our customers make better business decisions.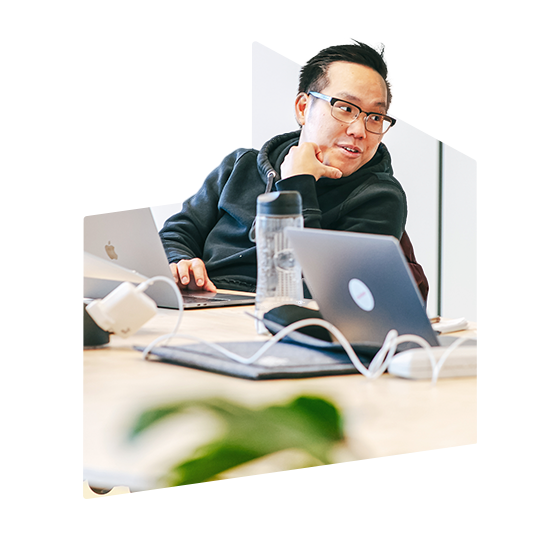 Being a Data Scientist at Peak places you right at the heart of the company
In an age when becoming AI and data-driven is one of the most important things businesses must do, it can also be one of the most challenging. Being a Data Scientist at Peak places you right at the heart of the company and at the forefront of developing practical and innovative AI-driven solutions to help our customers grow and become more efficient.
Our data science team shape our products and drive growth by transforming how our customers operate. Interfacing with diverse people and situations – from academic experts to being onsite with our customers.
The Peak platform sits at the heart of our customer's businesses, enabling the rapid unification, modelling and – most importantly – use of data,
Our Data Science Specialisms
What does it mean to be a Data Scientist at Peak?
Operations Data Scientist
Operational data scientists build machine learning and optimization models to enable business users to make better decisions and drive favorable business outcomes – such as increasing revenues or decreasing costs. An operational data science team use data science to support businesses through higher-frequency, lower-impact decisions. 
Operational data scientists typically work on long-term projects (e.g. six months) that involve building a full solution and working closely with end users to determine how a solution will be built.
Insights Data Scientist
The insight data science team use data science to help businesses understand their world better, and to support lower-frequency, higher-impact decisions. An insight data scientist uses analysis and visualizations to create insight containing actionable recommendations, enabling customers to make more informed decisions. 
Insight data scientists typically work on shorter term projects (e.g. one month) that involve the in-depth analysis of specific trends and behaviours to answer questions that customers have.
Peak Labs
Working as a Machine Learning Engineer, you'll see your outputs deployed and used across multiple projects by many different customers, and you'll help shape the future of the Peak platform. Your work will supercharge users of the Peak platform. You'll see your work engaged directly by both internal stakeholders at Peak (e.g. the Peak Data Science (DS) team), and external stakeholders too (e.g. external DS teams working on the platform).
As part of Labs, you'll bring strong enthusiasm for all things machine learning and data related, as well as keen interest in long-term advancement of your data and machine learning knowledge, software skills and product development practices.
Data Engineering
Data engineers work alongside data scientists and business teams, as part of the operations team, to ensure the reliable processing of organizational data and ensure seamless integration of outputs back into end user systems. 
Based on data scientists' data requirements, data engineers are responsible for working collaboratively with the customer to establish where data is located and the best mechanism for transferring (or accessing) that to Peak, for both historical data transfer and then ongoing updates. Once the best approach is determined, data engineers will either implement data transfer using Peak platform functionality, or advise the customer how best to transfer or access the data. 
Leadership
The role of a Data Science Team Leader is to build and lead a team of data scientists, providing guidance and strategic expertise to ensure projects are successful and that the team are developing the skills required to be great data scientists.
Data science team leaders will manage a team of data scientists, providing them with support on the technical approach and management of their projects and helping their team develop skills to progress their careers in data science.
We're

building a world class data science team; one that is outcome focused, delivers value for customers and enjoys sharing knowledge with each other and the data

community.
I

really love working in a super friendly and multidisciplinary team where brainstormings are always great and fun. You constantly have the opportunity to do exciting and impactful things and learn from amazing

people.
The

Data Science team has a strong culture of collaboration and support. There are always people willing to help me on any problem big or small. There are loads of learning and development sessions to get involved with at Peak. Participating in workgroups has been a great way of building my knowledge in a wide variety of

topics.
I

love to join different working groups, great places to share and expand our knowledge! Also it helps me to stay motivated to develop myself as a DS at

Peak.
As

somebody that has just started my professional career, I love the amount of support I get from my manager and colleagues in helping me develop my commercial and technical skills as a Data

Scientist.
I

love the trust Peak place in us. From very early on you're able to build models and make decisions that have real-world impact for

businesses.
I

think the best thing about working for Peak is getting to work with amazing people. I know it sounds like a cliche, but I really think I could be a DS anywhere, but I don't think I could find this culture everywhere I'd choose to work, that's what makes Peak a one of a kind type of work

place.
I

love how every data scientist at Peak is specialised differently, which gives me an opportunity to learn a new thing from every single member of the

team.
Data Science Fellowship Scheme
The Peak fellowship programme offers a great opportunity for those coming from an academic background to get a career in data science. We're looking for people with a PhD and possibly postdoctoral experience who are enthusiastic to learn more about data science. This fellowship lasts 4 months or 6 months, subject to candidate preference and availability. It is offered as a fixed-term contract, allowing you to explore the role of a data scientist and decide whether it's right for you. We're particularly interested in those who have experience with problem solving and using a range of technical skills throughout their research. During the fellowship, you'll get exposure to data science and how we deliver value for our customers. You'll work as part of our data science team, who shape our products and drive growth by transforming how our customers operate. You'll get to learn the commercial side of data science through engagement with customers, and you'll get to apply your technical skills to a variety of business problems.
Data Science Graduate Scheme
You'll work within the Data Science team, spending dedicated time focussing on Insight and Analytics, Research and Development, and Customer Operations. Interfacing with diverse people and situations, and working with some of the biggest brands in the world – this opportunity will develop a solid foundation for starting a Data Science career. Furthermore, there will be opportunities for high performing graduates to remain at the company after the scheme ends.
Alongside on-the-job experience, you will have the opportunity to take part in structured training sessions and work together on a group project.
We're looking for high achieving graduates of numerical degrees. These could be computational Physics, Mathematics, Statistics, Data Science, or other fields like Computer Science and Psychology. You must be enthusiastic about data, curious about new ways to explore, model, and visualize data, and have the ability to communicate your understanding and findings clearly.
Peak's Decision Intelligence Community
The Peak community exists to support data scientists and analysts who want to make a difference and drive change within their organizations. Learn how to build models that deliver on commercial needs, troubleshoot problems and exchange ideas with data scientists from a range of backgrounds.
If you are wrestling to tie your work to the real-world, this is the place for you. If you are incredible at deploying applications that deliver commercial outcomes, share your skills. Whether you are an experienced or an aspiring DS, you have a vital role to play in our community.
If you like what you see, take a look at the opportunities below across our global clubhouses.