Transitioning into tech: Becoming an engineer
Devbase is back, and now available to watch on demand!
Our second Devbase webinar offered some great advice for becoming a software engineer from a non-technical background.
Talk Abstracts
Breaking into product management from a non-tech Background – Avani Tiwari
An experience sharing about being a product manager in a tech company. How I started in the role and what challenges a product manager faces in the day to day life
Plane boring to plain awesome – Romy Greenfield
My name is Romy, and after graduating from university and switching careers in unrelated roles regularly, I made the decision to dive into tech by joining a JavaScript bootcamp run by NorthCoders. Since then I've worked for four companies with a few different tech stacks picking up some tricks, tips and insights along the way!.
Event Description
Devbase is home to a community-based event series designed to support digital innovation. It focuses on growing personal development and is a place for engineers to connect with other digital professionals, thought leaders and employers in the space.
Devbase aims to build a knowledge hub of learnings and skills and make it accessible for all, covering a broad range of engineering topics and themes that could help in your development. This includes; best coding practices, emerging technologies, AI integration and infrastructure as code (IaC), to building soft skills and supporting mental health in the workplace.
We organise regular Devbase meetups for engineers from all fields of expertise, including: software development, machine learning, DevOps and AI Engineering, to name just a few. Anyone can get involved, present their work or just benefit from the great learning and networking opportunities available to all.
The audience will be made up of DevOps, software engineers, QA, students and company CTOs from various tech companies and backgrounds.
The Speakers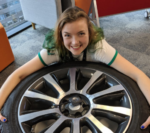 Romy Greenfield
Software Engineer, Adaptavist
Avani Tiwari
Product Manager, Peak
Watch now
Enter your email to watch the webinar.