Meet Peak: Dom, Data Scientist
By Will Lord on August 3, 2020
Welcome back to the fourth instalment of Meet Peak. After our pet special interlude, we're back to meet the rest of the team!
This week, we chatted to the data scientist that started it all, Dom Clarke…
Hi Dom! Tell us a bit about yourself and the work you do at Peak
I've been at Peak for almost four years now, after doing a Master's in data science at Lancaster University. I joined a very small company as Peak's first data scientist, and I've seen us grow from nothing to a team of 30+ data scientists now! The work I do mainly specialises in Customer Intelligence, with a main focus on our B2B customers; helping businesses increase revenues by predicting their great customers, predicting churn, building recommendation systems and things like that. 
Was it scary being the first data scientist at a new startup? How did you find it?
It was a little intimidating, but I'm always up for a challenge! Back then, we came up with the solutions as we were going along, building them out until, eventually, they've become the solutions we're offering customers now. So, it's nice to have sort of guided the solutions and products we are building from day one. It was a massive challenge, but overall the work has been really rewarding – and I've not regretted my decision to join Peak once!  
How different is Peak as a company and the data science team now compared to when you first started?
The dynamic has definitely changed, from me and Stu sat in an office going through the problems we were solving, to now. We've got a structured team and set solutions, so it's all very scalable. You can tell it's really come on, things are looking great now and the future is really exciting, too. It's completely changed – but changed for the better!
Looking back, how did you actually get into data science to start with?
I initially wanted to go into stats. My Bachelor's degree was in maths and I wanted to do a stats Master's. But, Lancaster started to offer a data science Master's for the first time. Because it's more applicable to real life problems (stats is a little bit more theoretical) I thought it sounded perfect for me. It's obviously a very new field, so I read a lot about it and saw it had been labelled "the sexiest job of the 21st century" which sounded good to me! I had been using a lot of the methods already so when I started diving deeper into it, it was quite natural and I loved doing it. So, the thought of doing data science for a job was really exciting. 
So did you pick data science for career aspirations, a genuine interest, or a bit of both? 
When I was doing my Bachelor's, I was doing things like linear regression which is fairly basic stuff – for some ? – but that's the stuff that really interested me. You could really see the reward and the actual result of the solutions that you're providing. So, I think it was a bit of both; I knew that there would be a job in the future but it would be a job that I would love to do. 
Any words of advice for someone starting out in data science?
For someone choosing data science at university who has a passion for maths, I'd recommend playing around with things like predicting house prices – because that's some of the simplest stuff you can do. If you look at a house price, it can be predicted based on where it is, the size of it, how many rooms it has and so on. So, if that sort of thing interests you, I'd say pursue data science. Or, if you wanted to help advance technologies of the future like driverless cars, robots and cool AI applications like that, I would definitely recommend going into data science!  
More recently, it's been tough times for everyone and lots of people are now working from home. How have you found the transition?
Awesome to be honest! I feel more productive when I'm at home because you get time to really focus, whereas in the office there's distractions and it can be quite loud. There are definitely benefits to office life, but I've found my most productive work has been while I'm at home, and I've got into a really focused mind set and smashed some work out. When I've been in the office and I've had those focused mind sets it's been very easy for people to come up to me, poke me on the shoulder and get me out of that –  but when you're at home you can put 'do not disturb' on and no one will bother you, so that's a big benefit. But, I have definitely missed the social aspect of seeing everyone in the office. You can obviously have video calls with people, but it's different than being there in person and having general chit chat about weekend plans and talking rubbish with your mates in the office. 
Did you enjoy the company event a few weeks ago then? Was it nice being able to see colleagues again?
Yeah! Just meeting people and talking in person, it was so nice to just see people's faces after so long. Obviously we got lucky with the weather as well, and had a nice walk to a pub in the middle of nowhere in Trafford Park – in the middle of an industrial estate – where we saw some interesting things…! It was definitely one of the best social events we've done. It was tiring though – we walked 16 miles, or something like that, which I don't do that often! 
Do you think you've found working from home easier given that data scientists often work individually?
Yes, our data scientists usually work individually on projects with one other supporting data scientist if they require it. So, I'd say the office dynamic compared to working at home has probably been the same. One thing that has changed is how we've interacted and been closer as a pod. Internally, in the data science team, we have three major teams and then specialised pods which are smaller teams within them. We've started collaborating as a pod which is something we didn't do that much in the office. Now we're working from home, we have our morning meetings, development meetings and we help each other a lot. It's been really beneficial to me and I'm sure my other pod members would agree as well. 
During lockdown, there have been rumours you've been getting withdrawal symptoms from the gym? 
Yeah, I'm very excited for it to be open again tomorrow (laughs). The gym I go to will open at 08:00 and I'm going to be outside those doors at 07:59 ensuring that I get in there. I can't really work out from home, a lot of people do it and do it well, but I like the social aspect of working out in the gym and you just get more motivation from it I think. So yeah, I'm definitely excited for it to open!
What are some of your other hobbies away from being a data scientist at Peak? Being Peak's very own DJ Dome comes to mind!
Yeah I like to DJ! A few of us at Peak are into it, and we all did a set after the social event a few weeks ago which was fun, I think we all enjoyed it. It was pretty cool to get everyone involved!
Is that the first time you had DJ'd during lockdown, or have you been practising?
I practise every week or so, from time to time. But it's nice to get to play in front of some people and let other people enjoy your music, so it was really quite fun. 
Do you do any sets outside of work, or is it more of just a hobby?
Yeah, in front of friends, at house parties and small events. I like it when people appreciate the tunes I have to play…even though they are quite select tunes sometimes!
A little bit more on you, where are you from originally?
I was born in Bolton, and raised in Wigan, so spent my younger years in Wigan and spent my university years at Lancaster. Now I've moved to Manchester, currently living in Didsbury. So I haven't moved far from the north west but it's where home is!
How did you enjoy university life?
It was great! It was probably the first time I'd been away from my parents for a prolonged period of time and it made me grow up very quickly, which I definitely appreciated. It's good that I found a subject that I'm really interested in, because I know a lot of people go to university and they make a wrong decision; they don't like the subject they've picked and it doesn't interest them that much. I feel quite lucky all of that fell into place for me. 
Any fun facts that none of our readers would know about you?
I'm now a powerlifter and signed up to my first competition in April! That obviously got cancelled due to COVID-19, but that was a big thing for me. I was really ready for it and stayed very well behaved in maintaining my body weight; I wasn't drinking alcohol for six months, and all of that hard work kind of went out of the window! It was a shame but I'm sure when everything gets back to normal I can sign back up again – we'll see how the legs are feeling after not being worked in a while!
Brill! That's all we've got time for, thanks for all your time Dom, and keep lifting when you can finally get back in the gym!
– Before we leave you, here's our very own DJ Dome in full swing… ? ? ?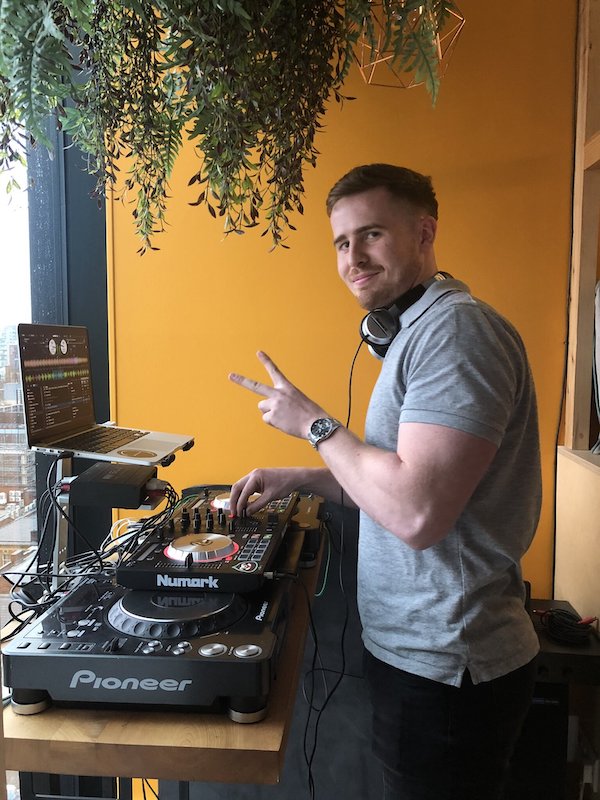 Enjoyed getting to know Dom? Meet some more of the Peak team here ?