Quote Pricing
Rapid quotes that increase win rates and maximize profitability through AI-driven configure price quote software.
Responding to quote requests takes time
Prospects want quick quotes, custom-fitted to their needs. But responding to requests for quotation (RFQ), can be messy, manual and time-consuming. That means you risk losing the business to competitors. Often you've got quotas to hit, so you discount price to close the deal. You need to give quick quotes at a price that wins new business, but protects profits.
Automate and optimize with CPQ software
Quote Pricing is an automated pricing application that uses AI models to ingest data across your business to automate the RFQ process and deliver optimized pricing that lands deals, without leaving money on the table.
Win with super fast, optimal pricing
Speed up the sales process, increase conversion rates and maximize profit margins with our automated CPQ platform
Increase win rates

Maximize revenue and profit margins

Reduce excessive discounting

Give your business the competitive edge
Maximize revenue and profit margins
Reduce excessive discounting
Give your business the competitive edge
See what Peak's Quote Pricing application can do for your sales team
Quote Pricing is a pricing optimization software built on the Peak platform. It uses AI models to estimate sale conversion probability on a range of prices to instantly recommend a price for each quote, helping you maximize profit margin and increase conversion rates.
Combine data
Add intelligence
Make decisions
Ingest, transform and organize large volumes of data from across your company. 
Historic quote price data 

Historic sales data

Product metadata

Customer metadata

List price data
Apply predictive and price elasticity models to the data.
Apply predictive models to estimate your offer's optimal price. Price elasticity models predict sales conversion probability and margin for a range of prices around the expected selling price. The recommendations of these models are used to maximize either revenue, margin, or a combination of both, depending on your business strategy.
View price recommendations for each item on the quote.
Return suggested price for each item on the quote in five seconds or less with an API call containing the quote data 

Explore historic price elasticity of demand for products in a dashboard, which can be used to inform list price change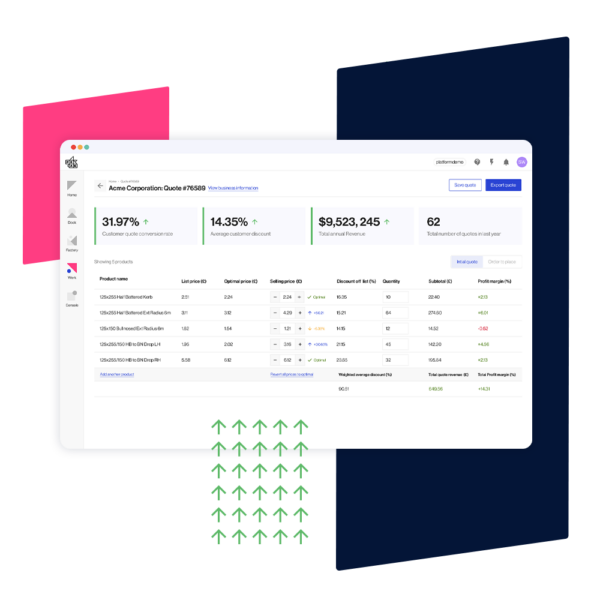 Decision Intelligence | Manufacturing
Marshalls
Optimizing pricing and processes to keep customers happy.